Utthunga's OPC Suite or uOPC Suite is a robust and efficient connectivity platform which has made it an ideal choice for data relay from the shop floor to the top floor.
uOPC Suite is a collection of classic OPC Data Access (DA), OPC Unified Architecture (UA), and communication protocol drivers. Its interactive user interface allows you to connect, monitor and control varied automation devices and applications. Any OPC compliant client application (SCADA, MES, Enterprise systems, etc.) can seamlessly connect and acquire data from manufacturing/process floor.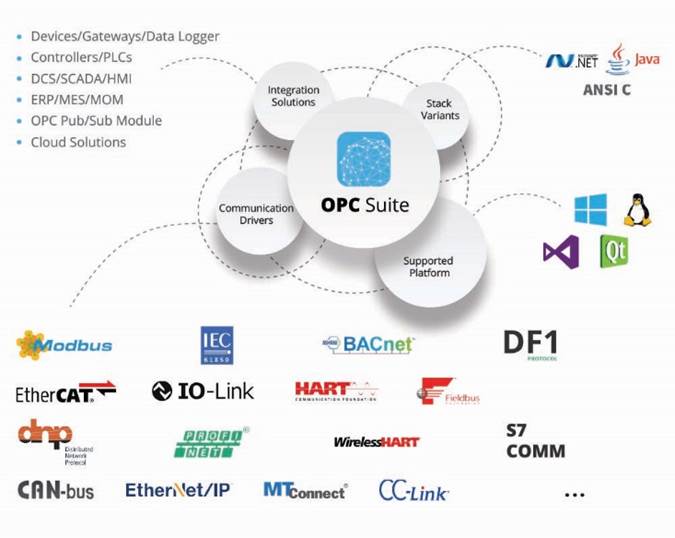 uOPC Suite leverages OPC and standard communication protocols (such as Modbus, BACNet, CC-Link, SNMP, ODBC, and web services) to provide a single source for industrial data. With its robust architecture, uOPC Suite plays a pivotal role in securely providing valuable information across the enterprise and enabling data-driven decision making. It also supports the OPC UA specifications and many of the OPC Classic specifications, including OPC Data Access (OPC DA), OPC Alarms and Events (OPC AE), and OPC Historical Data Access (OPC HDA).
How uOPC Suite Adds Value to Your Business?
uOPC Suite is a complete solution that ensures high reliability and redundancy, enhanced performance, multi-platform support and easy migration.
Unified architecture for simple installation, configuration, maintenance, and troubleshooting
Fully compatible with the leading cloud services
IoT-friendly and enterprise-ready, brings IT and OT together
Flexible deployment on public and private clouds
Efficient remote asset monitoring and management
Advanced security via SSL and TLS for secure, authenticated, and encrypted communication across various network topologies
Easy deployment on a variety of embedded systems regardless of whether the system is general-purpose OS or a real-time OS
Flexible to combine drives and supports multiple protocols