Who We Are
Utthunga is a Product Engineering and Industrial Solutions company. We engineer industrial-grade digital products and solutions for industrial OEMs, Industries, ISVs, and Service Providers.
We provide software development, firmware & hardware development, IIoT applications, IT-OT integration, field device integration, industrial communications, security engineering and testing services to global industrial OEMs and manufacturers. Besides these horizontal technology offerings, our domain-based vertical expertise in Process, Factory, Power, Building and Mobility domains enable us to function as a very dependent partner for our customers across the globe.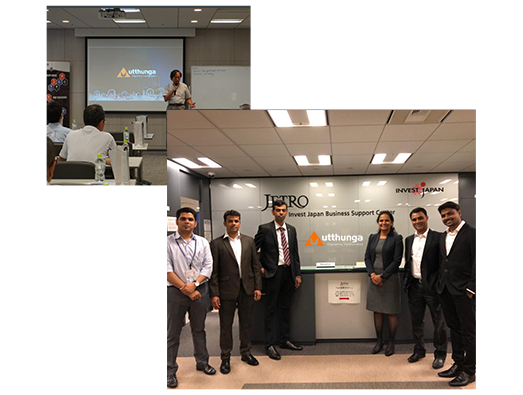 Growth Story
Our humble journey began in the year 2007 when three passionate engineers got together in a small one-room office. These three engineers had a clear vision and a lot of passion to cater to the technology needs of the industrial world. The foundation of the company was industrial connectivity and protocols. That is how we started as a company 15 years ago, connecting industrial devices and systems to each other.
Since then, we have grown to over 800+ engineers working across the globe. We have served over 150+ clients in various domains and technologies. The single most important factor in our success has been our unwavering focus on the needs and interests of our customers. We withstood the 2008 economic downturn and are now facing the COVID equally strongly and are poised to add lot of people and customers to our proud legacy.
We have institutionalized agile practices to enable digital transformation for OEMs and industries. We operate with one core objective: engineer stable products with faster time to market. We have the right mix of experience and expertise in domain and technology, something we maintain with continuous re-skilling and training of our invaluable resources.
Basic Tenets
Our Vision
To be the preferred and trusted technology and solution partner
Our Mission
Deliver the best possible and reliable solutions to help our clients improve efficiency and business profitability
Customer Centricity
Our thinking, planning and acting are based on customers and their businesses. We offer what the customer wants rather than what we have on offer.
Innovation
We think and act for our customers. We bring value to our customer business by creating best-in-class innovation that is irrefutably valuable. Our offerings are cutting-edge and creative.
Passion & Excellence
We love what we do. We are willing to tread the path of excellence such that our customers and market get the best-in-class offerings.
Collaboration & Camaraderie
We work together with our customers towards our vision. We collaborate instead of competing. We are in this together!
Why Us
We take pride in our core strengths of Innovation, Passion and Excellence, Collaboration and Agility. Sound like mere words – talk to any one of our team members and you will find out for yourself!
We are an ISO 9001:2015 and ISO 27001:2013 certified company with a presence in US, Germany, Japan, with a head-quarter in Bangalore, India. We closely work with several industry-leading brands.
We align ourselves along the customer's value chain, providing end-to-end services in the following broad spectrum:
Consulting
Engineering
Production Support
Content Engineering
A high-level description of our services on each of the above stages of the customer's value chain:
Connectivity and Data Integration Solutions
Embedded Engineering
Digital Engineering
Operations Applications Engineering
Production Applications Engineering
Security Solutions
Verification and Validation
The quality of our work has been respected and appreciated by customers globally, many of whom are on the Fortune 500 list. The quality of our deliverables is made possible by our continuous investment in these areas:
People: Technical and domain experts with regular skilling/training
Accelerators: Ready to use components, hardened with years of field usage
Subject Matter Experts (SME): A rich pool of go-to SMEs, who are part of every project we execute
Process: Solid engineering and project management practices
IP Management
Business Models: Flexible engagement models to choose from: ODC, turnkey, time-based
We also participate and actively contribute to industrial consortiums like the OPC Foundation, Profibus International/IO-Link, ODVA, ETG (EtherCAT), FieldComm Group, FDT Group, among others.