Bridge the gap between IT & OT, and create a cohesive & agile manufacturing operations ecosystem with seamless data exchange from production to the cloud using our advanced industrial solutions.
We pride ourselves in meeting your unique needs by offering a complete range of industry 4.0 solutions. From connectivity & data management, predictive maintenance, and IIoT solutions to Digital Twin models and adaptive processes & systems, we offer the full range of solutions that enable you to optimize asset utilization, reduce downtime, match supply/demand, reduce operational expenditure, and more. Partner with us now to kick-start your industry 4.0 journey.
Delivering Turnkey Solutions that You Can Trust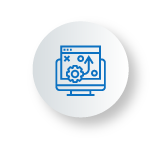 Process Automation
Leveraging our expertise in process, discrete, and batch automation, we provide cutting-edge solutions that increase productivity, reduce errors, and save costs.
Process Design
Our process design solutions offer precise measurement and sensing capabilities to optimize your manufacturing processes.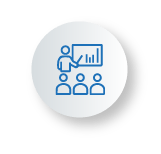 Advisory & Consulting
We offer end-to-end consulting and advisory services for Industry 4.0 transformation and smart manufacturing strategy & implementation.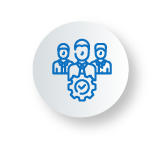 Operations/Production Management
By combining real-time data analytics, monitoring, and control, our operations/production management solutions assist you to achieve operational excellence, improve quality, and reduce costs.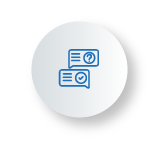 Maintenance Management
Increase productivity, minimize downtime, and extend equipment lifespan using our equipment health & performance management solutions that facilitate real-time equipment monitoring, predictive maintenance, and performance optimization.
Our Offerings in a Nut Shell

Digital Factory Maturity Assesment
Industry 4.0/ Smart Manufacturing Road Mapping
OT Cyber Network Vulnerability Assessment
Field I/O Network Assessment
Process Consultation – Instrument Selection, Process Flow Design, etc.

Feasibility & Requirement Analysis
Engineering & Designing
Project Management
Manufacture & Supply
Erection & Commissioning
Training & Assistance
Support Maintenance

Operations/Production Management
Production & Planning
Tracking & Traceability
Downtime Management
Quality Management
Inventory Management
Digital Logbook
Asset Performance Management
OEE

Equipment Health Management
Oil Field Management
Energy Monitoring system
Truck/dumper Monitoring System
Vessel Fuel Monitoring
CNC Machine Integration & Monitoring

Network Monitoring & Diagnostics (PROFIBUS, PROFINET ETHERNET I/P)
Enterprise Asset Monitoring – Motors, Compressors, Chillers, DG Sets, and Other Critical Assets
Computerized Maintenance Management System (CMMS)

Product Engineering & IT Services
Custom Software Development/ Mobile/Desktop/Enterprise Apps, and Support
Custom IIoT (Industry 4.0) Platform
Custom Hardware Development & Manufacturing
Cloud Provisioning & Engineering Services
IT Infrastructure, Cloud and Security Services
ERP Systems, PLM, Integration Services

PLC/DCS/SCADA-Based Automation
SCADA Applications
EMS
OT Cybersecurity
Assembly Line Automation
Jigs & Fixtures
Oil & Gas
Discrete Manufacturing
Pharmaceutical
Metal and Minerals
Power
Cement
Food and Beverage
Wastewater
Fertilizer
Chemical
Energy Management System
LoRA-based 150 EM integration to SCADA to save more than 10% energy consumption.
Digitizing Battery Formation
Indigenous digital log-book application development and deployment to reduce 80% manual effort.
Newspaper Stacker Automation
Scheduling and print management of newspaper stacks based on area-wise demand.
Oil Field Management
35+ oil well connected with cloud-based oil field management applications to support real-time monitoring and predictive maintenance.
Gas Inventory & Distribution Management
IIoT solution deployment to centrally monitor the gas inventory in distribution outlets and accurately manage refilling.
Vessel Fuel Monitoring
On-ship edge data acquisition and communication with cloud-hosted fuel management application to save 10% fuel and prevent theft.
Custom Hardware & Software
Edge Gateway and IIoT cloud platform development to facilitate remote management of assets.
Network Diagnostic
In process monitoring and notification of PFN in steel plant to manage the health of the PFN network.
E-Kanban
Indigenously developed MES application on SCADA platform and piloted it in a discrete manufacturing plant.
Partner with us for Industry 4.0 transformation.