HART Protocol
HART (Highway Addressable Remote Transducer) is a Global industry standardized protocol. It communicates over existing 4-20 mA analog current loops, extending communication capabilities without the inconvenience of installing additional wiring.
Utthunga HART Slave Stack (uHSS) is a system independent stack, which can run in any environment. It is a generic stack, which can be used to develop 'N' number of embedded applications of HART devices. It is developed as per the global industry standard specifications provided by FieldComm Group (FCG).
uHSS is the fast way to create a field device with HART7 Features. We also provide Customized HART Stack according to your requirement.
Specifications:
Supports all HART7 standard Universal, Common Practice and Device specific commands.
Supports Request and response mode
Supports Burst mode
Supports multi drop mode
Supports Single / Multi Point-to-Point communication mode
Supports Error detection in the received frames
Supports Respond to communication errors
Supports Extended Manufactures codes
Supports Private Label Code and Device Profile
Supports Time Stamped Data
Supports Expanded number of device variables in Command 9
Supports Upgraded Command 38 & 48
EtherNet/IP Protocol
EtherNet/IP Adaptor Stack enables developers to add EtherNet/IP Adapter Class functionality to a product's feature set. Stack includes objects and services to make EtherNet/IP™- compliant products defined in THE ETHERNET/IP SPECIFICATION published by ODVA.
EtherNet/IP Adaptor Stack is for I/O adapter devices. It supports multiple I/O and explicit connections and includes objects and services for making EtherNet/IP-compliant products as defined in the ODVA specification.
Specifications:
Supports all objects according to CIP Standard.
Supports applications objects like DLR, QOS.
Adaptor Class functionality:
– UCMM (unconnected) Message Server
– Class 3 (connected) Message Server
– Class 1 (connected) I/O Server
No dynamic memory or thread allocation. Only one thread utilized.
Stack Source is 'C' code for portability.
Stack is tested with ODVA CT16.
Modbus TCP Protocol
MODBUS TCP protocol intended for supervision and control of automation equipment. It is an application layer messaging protocol, which provides client/server communication between devices connected on different types of buses or networks. Offers services specified by function codes. MODBUS function codes are elements of MODBUS request/response PDUs.
Utthunga's MODBUS C Master stack supports MODBUS TCP communication .It is developed as per the Modbus TCP protocol standards.
Specifications:
Read coil
Write single register
Writing into multiple registers
Read registers
Read FIFO queue
Encapsulated interface transport
Exception handling
HART IP Stack Protocol
HART IP Stack facilitates to transmit HART data over Internet protocol (IP) using Transmission Control Protocol (TCP). With this, all the HART data can be made available over IP network. It provides quick and easy way to configure, monitor and diagnose HART devices over the HART multiplexer network and WirelessHART networks from anywhere in the world with existing Ethernet network. Simply we can also call it as HART over Ethernet.
In this protocol, the actual HART message will be added with a HART IP header and TCP Header. The resultant PDU will be sent across the network. It permits the usage of Power over Ethernet (PoE) networks also. Supports several speeds like 10 Mbit/s, 100 Mbit/s, and 1 Gbit/s etc.
HART host system: Client
The HART client allows a user application to implement information exchange with a remote device. The client builds a HART request with information sent by the user application to the client interface. The request is then sent to the UDP or TCP port of the server.
HART TCP device: Server
A HART Device (server) listens for a HART request on particular port. The request is processed and a response is returned to the client that made the request.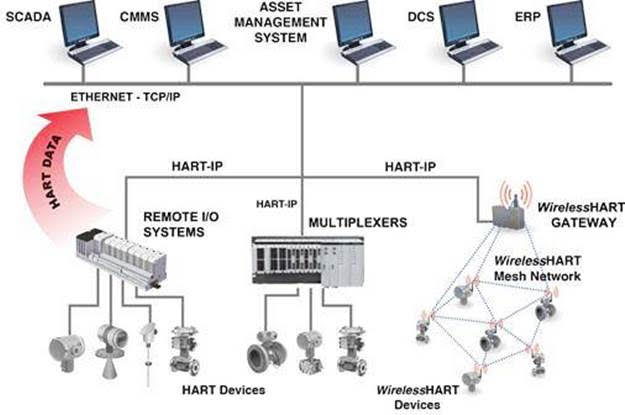 Features
Supports all existing Ethernet networks.
Provides fast and easy way to access HART Data over Network.
Detects device and/or process connection problems real time.
Increases Plant Availability & Access to the host.
Captures performance trend data for predictive maintenance diagnostics.
Quickly verifies and validates control loop and device configuration
Uses remote diagnostics to reduce unnecessary field checks.
Accepts, understands and responds to all universal, Common Practice and Device specific commands.
Supports Request and response mode
Supports Burst mode
Supports any network topology
Detects Error in the received frames
Responds to communication errors
Supports Extended Manufactures codes
Private Label Code and Device Profile
Time Stamped Data
Maintains data off all HART devices in log files. So that the data could be used for future use.
Communicates with WirelessHART devices