U-GEN: Industrial Diesel Generator Monitoring Solution
Introduction
APM encapsulates the capabilities of data capture, integration, visualization, and analytics tied together for the specific intent of improving the reliability and availability of physical assets.
APM is used in manufacturing industries such as oil & gas, petrochemicals, iron & steel, pharmaceuticals, etc. It helps in understanding the problems caused to the equipment because of varied factors.
One of the primary tasks of the APM is to detect the signs of deterioration at an early stage and prevent substantial damage. In the process, it saves time, money, and resources
Industrial Diesel Generator – Equipment Description
An industrial diesel generator (DG) is a heavy-duty power generation unit that converts diesel fuel into electricity. It consists of an engine that runs on diesel fuel and a generator that produces electrical power. These generators are designed for industrial applications and can power large facilities such as hospitals, data centers, and factories during power outages or as backup power sources. They are durable, reliable, and capable of producing high power output for extended periods of time.
The Need
Diesel generators are extremely important for almost every industry, and it is crucial to monitor them continuously to prevent power outages and downtime. DG set monitoring helps to plan timely refilling and repairs. It helps to determine and prevent fuel thefts and generator failure.
Key Features
The critical parameters and KPIs are displayed as gauges in the APM.
Key Performance Indicators (Calculated):
KPIs are essential to be aware of and have a good understanding of the equipment that is being used in the industry. APM assists in keeping a tab on KPIs as well.
Every industrial equipment/device has its own set of characteristics and traits. APM assists the engineers in better understanding these traits and making informed decisions about the maintenance and performance of the equipment.
When the parameters surpass their threshold value, an alarm for the critical parameters previously specified in the APM itself, will be triggered. The customer is instructed to normalize the triggered parameter by the alarm. The customer can also set up an alarm based on their needs. It is possible to view the history of triggered alarms.
You can evaluate, analyze, and print your equipment data with the aid of reports. Additionally, it provides information on equipment utilization on a daily and shift basis in the form of a PDF or excel file.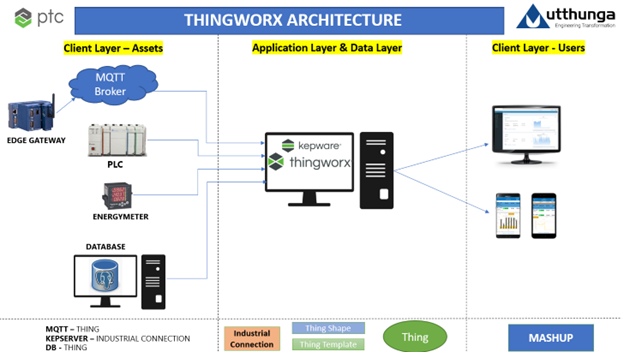 Utthunga offers a broad spectrum of products for implementing IIoT capabilities in your organization. From OPC Servers and Tunnellers, various trailblazing field-device integration tools, a spectrum of protocol-based simulators, to a highly reliable and robust edge management solution, we have almost everything that you need for making your architecture smarter.
Utthunga is an active member of industry consortiums like OPC Foundation, FieldComm Group, FDT Group, ODVA, IO-Link, EtherCAT, etc., which makes it a trustworthy partner of the world's leading industrial automation companies.
Partner with us today!