uSimulate HART IO is a 16 channel analog IOs simulator developed by Utthunga. This simulator can be primarily used to test and validate the IO cards of DCS, PLC, SCADA etc., in the absence of actual field slave devices.
Each IO channel can also be enabled with HART. Industries that manufacture DCS systems with HART enabled IO modules had to purchase a lot of HART slave field device to validate their IO modules. Substantial investment goes in buying these slave devices for validation.
Utthunga's simulator replaces these field devices, allowing the manufacturers to expedite the developmental and testing phase.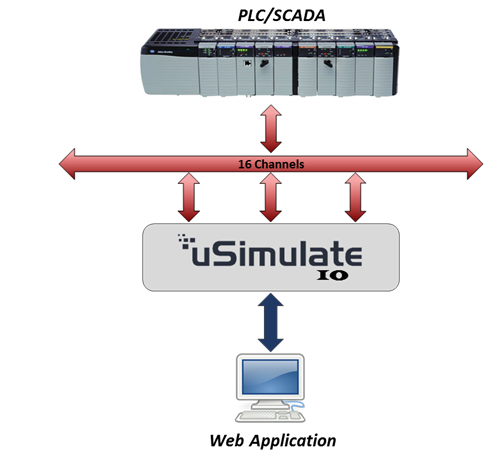 Features
Simulates 16 input/output channels simultaneously.
Each channel can be configurable independently to any type of field (input/output) devices through Web Application.
HART also can be enabled in each channel(Optional).
HART protocol comes with revision 5, 6, 7 stack
All the channels are loop power enabled.
All dynamic variables (PV, SV, QV, TV) can be simulated to the respective slave device variables.
Dynamic variables can be simulated in various patterns (Linear, sinusoidal, constant, unit step, random) between Upper range value and Lower rang value based on selection in web application.
Web application has the login credentials for security purpose and admin has the facility to add, delete or configure slaves whereas Guest user can only monitor the slave.
Each slave device data can be configured using web application manually or can be updated directly from DD.
An Internal resistance of 250ohm is provided for impedance matching with Master.
Logs are created and displayed in the web application to monitor data flow and to identify erroneousness.
Channel to channel isolation.