What is PROFIBUS?
PROFIBUS is one of the oldest networking technologies enabling all kinds of discrete and process manufacturing industries to gain digital advantages. Been in the market since 1987, PROFIBUS has become the primary choice to form a robust network at the field level.
Profibus is a part of IEC 61158 and is a set of two separate protocols,PRIFIBUS DP- for discrete applications and PROFIBUS PA- for process applications.
Though PROFIBUS is one of the preferred and reliable industrial communication technologies, it experiences intermittent downtimes during commissioning and operations. Not being able to address these issues on time can affect production efficiency and seamless data transmission. Hence, having an understanding of troubleshooting the PROFIBUS network will always give you an upper hand.
Errors in the PROFIBUS Network
Profibus requires maintenance and periodic review as it is sensitive to disturbances in installations. Any deviations from the PI standard guidelines may cause a negative impact on the data transmission behavior. For an instance, a fault in connector installation may cause the impedance to change, which causes the signals to deteriorate. Therefore, installing PROFIBUS network requires following the recommendations strictly.
Some of the errors in the PROFIBUS network are:
Physical Faults
Most of the faults in the PROFIBUS networks are experienced due to some physical faults or damages. Some of them are:
Shielding and Grounding: PROFIBUS cables have overall foil and braided shielding. If the shielding is not done properly, it increases the leakage current which causes reflections and errors in the message. Ideally, the PROFIBUS cables work best when both ends are shields are appropriately connected to the equipotential bond. The PROFIBUS & PROFINET International (PI) has provided a set of guidelines for PROFIBUS installations, which is not followed strictly can introduce noises or in the power source lines.
Faulty Terminations: PROFIBUS networks require terminators to eliminate the distortion in the signal caused due to long length cables. Therefore, terminators are required at both the ends of a network segment. According to PI set of guidelines, the method and position of terminators matter a lot. If the terminator is positioned at the wrong place it can cause reflections in the signals which will ultimately introduce errors. Ideally, the connectors on both ends should have the terminators in 'ON' mode, while the rest of the terminators should be in the 'OFF' mode.
Cable Length Exceeding Baud Rate: Baud rate is the speed of data transmission. The cable lengths in a PROFIBUS network requires to adhere to the baud rate pre-decided for PROFIBUS PA and PROFIBUS DP networks. While PROFIBUS PA network has a fixed baud rate of 31.25 kbps, PROFIBUS DP varies between 9.6 kbps- 12 Mbps and requires the plant network operators to keep the cable lengths per segment as per the baud rates defined in the PI recommendations. Failing to follow the given cable length guidelines, will slow down the speed of the data transmission.
9.6 kbps = 1200 meter
19.2 kbps = 1200 meter
45.45 kbps = 1200 meter
93.75 kbps = 1200 meter
187.5 kbps = 1000 meter
500 kbps = 400 meter
1.5 Mbps = 200 meter
3 Mbps = 100 meter
6 Mbps = 100 meter
12 Mbps = 100 meter
Short Circuit and Wire Break: Short circuit is common phenomenon in a plant network. However, it causes a lot of damage to the smooth functioning of PROFIBUS network. It causes damage to the node and disconnects the data communication from the master. Wire break is another challenge that stops data transmission from that point and onwards.
Electromagnetic Interference: PROFIBUS cables despite being shielded are exposed to the threats of electromagnetic interferences (EMI). This is a challenge that is caused due to improper installations of the cable. When the network cables are installed next to Variable Frequency Drive (VFD) cables and other EMI sources. This causes errors and network failures.
Too Many Nodes: According to PI guidelines the number of nodes in a segment should not exceed 32, and in a network should not exceed 126. If the number of nodes is more then it causes delays in message transmission which eventually causes failures of machines.
Logical Errors
Apart from physical factors, there are a few logical errors that pose hurdles in smooth data transmission. Logical challenges are caused due to physical problems:
Repeat Telegram: If a bus device, i.e., PROFIBUS slave, does not respond to the master in a pre-defined time slot, then the master repeats the message several times. This can happen due to either of these issues:
Device issues
Application issues
Set-up issues
Device design issues
Error Telegram: Error telegram is a scenario when a PROFIBUS slave responds to the master with a faulty message caused due to any physical damage/failure or local event on the slave. Error telegram can occur due to any logical error such as parity issue in the slave.
Diagnostic Telegrams: If a slave does not receive any message from the master in a watchdog cycle, then it is assumed that the slave is not being controlled. This scenario is defined as a diagnostic telegram. There are basically two types of diagnostic telegrams. Internal diagnostic telegrams are caused by internal technical issues like internal wire break or sensor wire break. On the other hand, external diagnostic telegrams are caused by external technical issues like loose backplane connections.
Missing Telegrams: When a data packet is entirely missing, it is considered that there has been no communication between the master and the slave.
Troubleshooting the PROFIBUS Network
Before troubleshooting the PROFIBUS network, diagnosing the physical parameters of the network is highly important. Usually, the PLCs and SCADA systems identify the bus failures but are unable to identify the PROFIBUS-specific parameters that require attention. Some of the ways and tools that will help you capture the physical parameters of a PROFIBUS network are as follows:
Physical Evaluation in Online Mode: Physical challenges occur quite frequently and if not addressed, it hampers the data transmission badly. If the physical challenges are identified while commissioning the nodes, appropriate measures can be taken to fail-proof the network. Indu-Sol's PB-QONE is a handy signal quality tester that allows diagnosing network errors like noise, voltage drop, reflection, termination problem, wire break, configuration fault, etc., in an easy and comprehensive way. Some of the highlighting features of PB-QONE are:

Comprehensive dashboard reflecting all the quality and telegrams related values
Network related reports are available in *.pdf or *.doc formats to process
Measuring results available within seconds
Physical Evaluation in Offline Mode: Detecting cable parameters can be really difficult and there are not many tools available in the market that can detect the right cable issues. Indu-Sol's PROFtest II is a handheld device that allows detecting various cable-related issues like short-circuit, incorrect connectors, termination issues, and much more with RS 485 technology.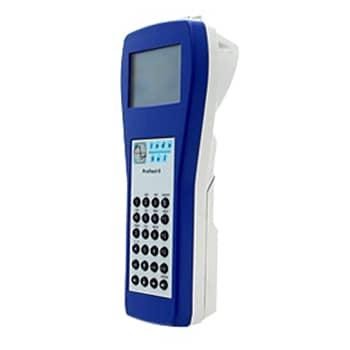 Cable length
Cable impedance
Incorrect termination
Cable interrupts
Shielding interruptions
Mixed up cables A-B
Short-circuit cables A-B
Connection of cables A/B with shield
Incorrect cable types
Detection of reflections
Diagnostic Repeaters: Repeaters also act as a slave and carry diagnostic data to the master. Every PROFIBUS network requires repeaters and deploying them allows identifying various faults like cable break, conductor short circuit with the shield, terminator resistor break, nodes diagnostics, etc. Indu-Sol's PROFIBUS HUB MULTIrep REPEATER can be added as the 32nd node in the segment. It amplifies the signals to PROFIBUS standard level and allows more devices to be added. It allows adding up to 7 isolated segments which will in turn make it possible to build network stubs along the main bus.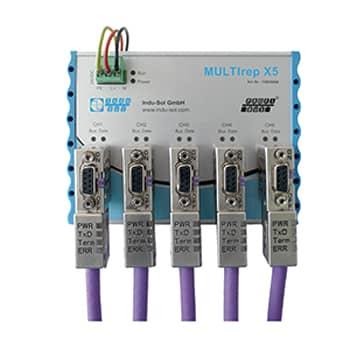 PROFIBUS Network Maintenance Tool: After diagnosing and troubleshooting, maintaining the network is very important. With massive devices installed on a plant floor, it is difficult to detect the anomalies and rectify them immediately. However, if avoided, it can damage the network and cause crucial operations to stop. In order to keep PROFIBUS network in check, Indu-Sol's PROFIBUS INSPEKTOR can be immensely beneficial. It is a permanent monitoring tool that can be installed as a node in the network and monitor the logical data traffic and raises alarms when anomalies are detected.
Factors like are analyzed, stored, and evaluated for each device:
Repeat telegrams
Error telegrams
Device diagnostics
Device failures and restarts
Bus cycle time
Bus speed
The device allows storing up to 2000 alarms where each alarm has a snapshot of 500 telegrams. It gives a detailed overview of the errors like error time, device, type of fault, etc., and reflects on a web interface.
Conclusion
Reliable communication networks ensure a smooth flow of production data. Hence, constant monitoring and upkeeping of the network are highly crucial to avoid sporadic downtimes. Utthunga's engineering capabilities combined with Indu-Sol's intelligent solutions will allow you to maintain your entire plant network effectively.
Check out the network diagnostic solutions and services here: https://utthunga.com/products/network-diagnostics/