uSimulate HART
Cost-effectively model and analyze HART slave devices
Introduction
Simulation is considered to be an enabler of network security, developing network management algorithms, industrial IT security, etc. Any industrial plant floor deploys tens and hundreds of field devices that collectively form a factory-wide OT network. All these field devices could encounter complex operational scenarios which if not handled properly can cause a serious impact on the OT network health and security. In order to address these issues beforehand, the OEMs and system integrators simulate the physical plant environment in a lab to test, verify, validate, and resolve various potential issues.
uSimulate HART: Utthunga's HART Device Simulator
uSimulate HART has been developed on top of Utthunga's proven simulation framework, uSimulate. uSimulate helps simulate communication protocols, field devices, control systems, process flow, and network traffic. uSimulate HART simulates HART slave devices. This hardware simulator plays a vital role in the verification of host systems such as DCS, AMS, calibrators, configurators, also enables operator training.
A few highlights of uSimulate HART are:
Provides a simple and intuitive web-based user interface to configure the settings
Ability to simulate data in various patterns (linear, sinusoidal, constant, unit step, random) with applicable lower and upper limits
Faults can be created
Can simulate slave devices having a combination of HART protocol revision 5, 6, 7
Simulates single or multiple HART slave devices simultaneously (depends on the configuration)
All Universal commands are supported as per HART specification
Common Practice commands that are supported by the slave devices can be configured
The channels are loop powered
Provides channel to channel isolation
Each channel can be configured as either analog input or analog output device
Logs are created and displayed in the web application to monitor data flow and to identify any error conditions during simulation
Four variables (PV, SV, QV, and TV) can be configured for each device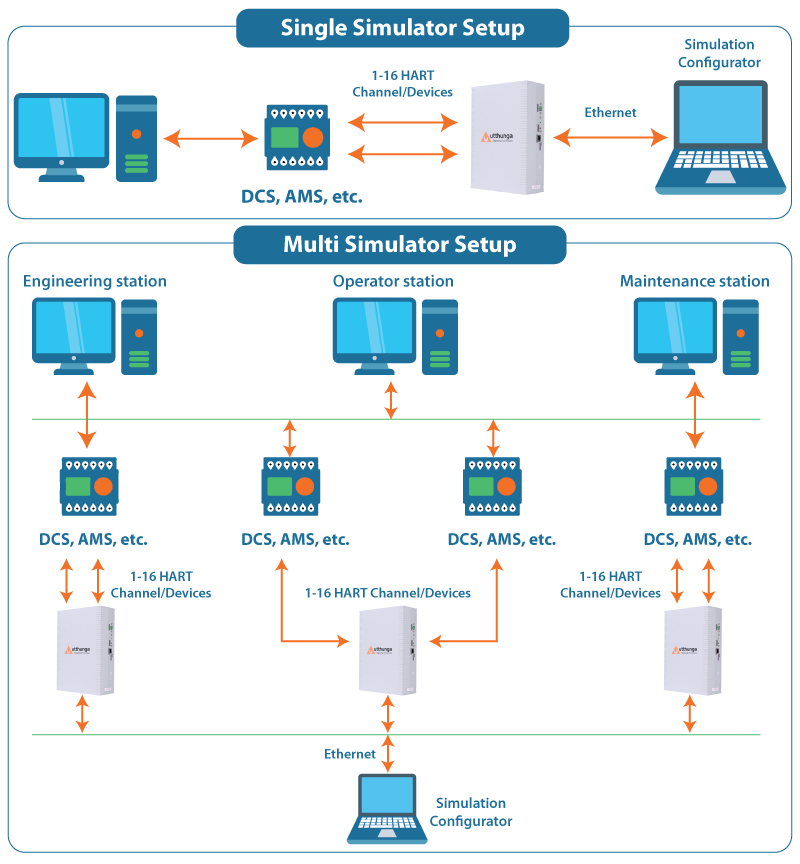 Use Cases of uSimulate HART
uSimulate HART is extremely useful in the following application areas:
Verification of Control Systems, AMS Systems, Configurators, Calibrators, Diagnostic/Test and Measurement Equipment
uSimulate HART can be used for verifying the interoperability across various HART versions and device types. Various features like safety functions, event notifications, and alarms make uSimulate HART a preferred choice for verifying performance, scalability, response time, etc., of the host systems.
Virtual Commissioning
One of the most appealing use cases of uSimulate HART is its suitability for virtual commissioning of the systems in the lab with the actual addresses of the field devices. This allows saving time in plant commissioning.
Service/Support
uSimulate HART enables the support engineers to identify the complexities and faults in the field devices. It helps reproduce the field conditions and provide a quick turn-around solution to the customers.
Training & Education
uSimulate HART can be a suitable use case for operational training and situational preparedness activities.
\

Number of Channels: 4, 8, 16

\

Per-channel Configuration: Transmitter/Actuator (Input/Output)

\

Universal Commands: All

\

Practice Commands: Most Commonly Used Commands

\

Temperature Range: -20 to +85 (Celsius)

\

Power: 24VDC/2A

\

Mounting Style: Table Top/Din Mount
Why Utthunga for HART Simulator?
Utthunga is a leading product engineering company with a demonstrated history in providing simulators to OEMs globally. One of the reasons why Utthunga HART Simulator is highly appreciated by the clients is because of its accuracy and robustness. With proven skills and experience in delivering services and solutions for the simulation of various HART devices, Utthunga's uSimulate HART is a user-friendly, integrated, and intelligent technology to diagnose errors and takes actions as the situations demand. If you are looking for a solution to secure your OT network from sudden breakdowns, uSimulate HART is just the right option for you. Contact us today!
If you would like to take your business to the NEXT LEVEL, we are here to assist you!